Management

In accordance with directions defined by the founding members, the organization is simple yet functional.
Placed under the presidency of Mr. Rémi Haquin, the society is led and managed by Pierre de Lépinau.
Rémi is a farmer in large crop growing in sustainable agriculture in Brégy, France. He is president of the Conseil Spécialisé Céréales of France Agrimer, vice-president of the AGPB, president of the Environmental Commission for Orama, manager of Unigrainsil and president of AgroEdi Europe.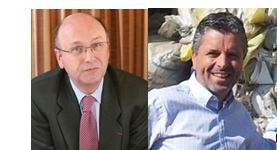 Rémi Haquin Pierre de Lépinau
© ADIVALOR 2020 - Legal Notice