Obsolete pesticide stocks

These are pesticide stocks that can no longer be used by farmers (or sold by distributors) because they have either expired or have been taken off the market.
Stocks become obsolete when:
The market authorities have withdrawn the product
It has lost its bio-chemical characteristics
There is no longer the need for it (change of technique, stopping farming etc.)

Old stock is thus gathered by professional users.

Waste collections, free for the user, have helped to eliminate 9,600 tonnes of old, unusable stock between 2001 and 2008.
.During the 2013-2014 campaign, 220 tonnes were disposed of, adding to a total of 10,700 tonnes over 13 years.
According to the studies conducted by ADIVALOR, residual stock henceforth concerns less than 10% of all farms in France.
Today, there are 51 phytosanitary companies who are actively involved in the organisation. These companies help finance ADIVALOR's activities and also take full responsibility in ensuring the safe disposal of waste arising from their products. These companies are the producers of more than 90% of crop protection products commercialized on the French market.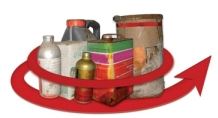 For products carrying the ADIVALOR logo:
The elimination of obsolete pesticide stocks is handled by the manufacturer and your distributor, providing they do not exceed the limit of 100kg. Anything over 100kg which carries the ADIVALOR logo may require a financial contribution.

For products not carrying the ADIVALOR logo:

You may be required to make a financial contribution.

© ADIVALOR 2021 - Legal Notice